EMPOWER YOUR STRENGTH
KOLBE COACHING
The Kolbe System™ analyzes the way people act with purpose and provides strategies to improve individual and group performance. As a certified (Kolbe Certified™) consultant, I have the tools, training and expertise to help team leaders, HR departments and individuals recognize their individual, natural strengths and solution-oriented skills and talents. This will enable you and your team to competently and confidently meet the challenges of the future in the rapidly changing world of work.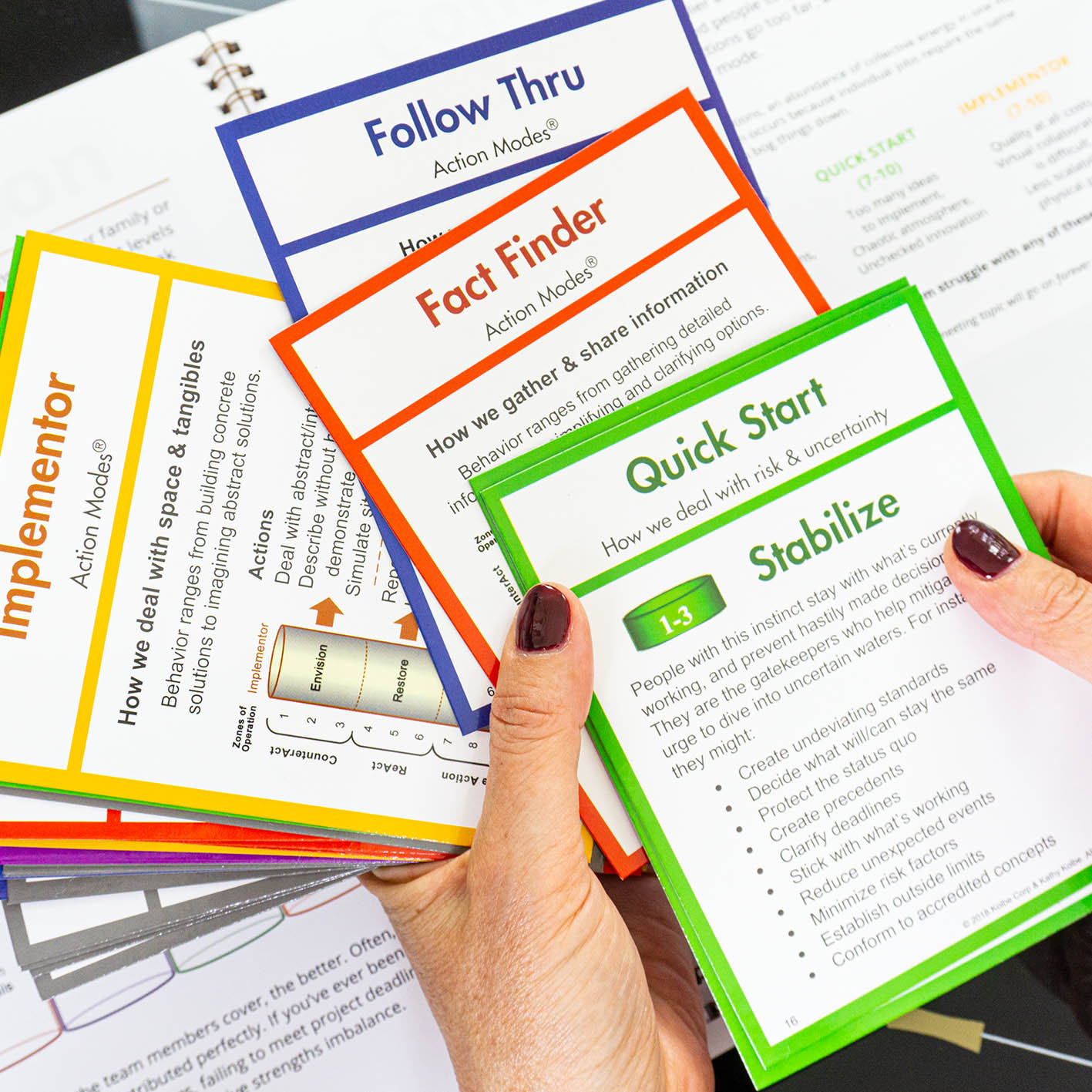 Why do I offer strengths and team counselling?
Do you sometimes have the feeling that you are not making use of your strengths with energy and passion – whether at work or in your private life? Does your environment recognize your strengths, or do you recognize the strengths of your team members and partners?
Are you really using the potential of your team well enough?
Even if we ourselves know where our strengths and talents lie, we are often still several steps away from embracing and living them. I am very grateful to Kim White for introducing me to the Kolbe Profile in 2009 – my first reaction at that time was: What can the Kolbe Assessment do that other profiles can't? Some profile results were already lying in some of my filing cabinets – none of these results had fascinated me so much until then that I was enthusiastic to learn more about them. With Kolbe, this was about to change completely, because it defines completely different areas in the human brain than other indicators on the market.
According to Kathy Kolbe, who developed Kolbe Theory and Profile, 'success' means 'the freedom to be me/yourself'. I followed this freedom to Phoenix/Arizona in 2014, where I completed the Kolbe Consultant certification in cooperation with Kim White Coaching. With great passion and as a member of the European Network of Kolbe Certified™ Consultants, I have since been supporting international clients to efficiently use and live their instinctive ways of acting and problem-solving skills.
How does the Kolbe method work?
The Kolbe ATM Index measures four instinctive patterns of behavior, or Action Modes®, which determine an individual's natural method of problem solving:
Fact Finder (ways of gathering and shoring information), Follow Thru (ways of arranging and designing), Quick Start (ways of dealing with risk and uncertainty) and Implementor (ways of handling space and tangibles).
Kathy Kolbe (Phoenix/Arizona) is a world leader in human instincts research and developed, among other things, the Kolbe Index some 30 years ago. Kolbe Conation™- Theory is based on the concept that human instincts are drivers of our productive actions.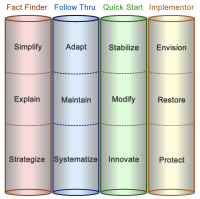 The 12 problem-solving competencies that enable us to do our best and most efficient creative work
The Kolbe Index is neither a personality profile nor an 'intelligence test'. Referring to the three different ways of functioning of the human mind, the Kolbe result provides a result for the 'Conative – instinctive action area' and is therefore the only profile on the market that can 'measure' and represent this area in the mind. In the HR area (personnel development) it is recommended to use complementary profiles that map the cognitive and affective area of the human mind. The Kolbe result is independent of gender, origin and age.
Do you want to use your own talents and those of your team effectively?
Do you want to improve your communication, reduce stress in the team and increase your productivity?
Surely you want the "right" person for the appropriate position to reduce unwanted staff turnover?
At JU_nique & Team, we have the following consulting services for you:
The Kolbe A ™ Index measures four instinctive behavior patterns that show a person's natural problem-solving skills.
The Kolbe B ™ Index shows how an individual perceives the functional requirements for success in the job.
The Kolbe C ™ index measures the functional expectations of supervisors for a specific position
RightFit™ is a successful tool used to identify ideal candidates based on how their instinctive talents match the requirements of a particular position
Consultations can be booked in the form of individual sessions or team seminars
Individual coaching sessions can also take place online
The selection of assessments suitable and necessary for you, as well as any resulting costs, will be agreed upon in a free initial consultation.
The more you like yourself, the less you are like anyone else, which makes you unique
~Walt Disney