"There can be no friendship without trust and no trust without integrity." – Samuel Johnson (1709 – 1784)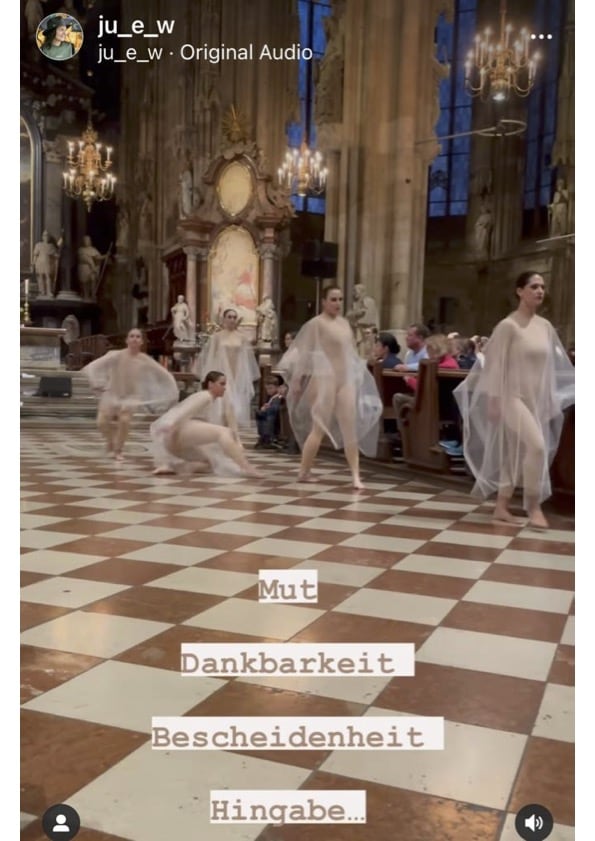 Long Night of Churches – June 10, 22 – 33 virtues – dance Billi Thanner
*1972 lives and works in Vienna and is one of the protagonists of a new generation of contemporary actionism.
Inspired by yesterday's dance performance as part of the 'Long Night of Churches' at St. Stephen's Cathedral in Vienna, where under the direction of Billi Thanner* , 33 virtues were portrayed, it was clear to me that the word 'integrity' would become the title of my June blog.
This one virtue has been ghosting around in my head for weeks, because I myself have started to question and wonder what we humans are missing more and more; very often it seems to me that pretty much everything is out of balance at the moment and the 'right balance' is no longer found and lived in many areas of life.
The Greek philosopher Aristotle defined virtue as follows: a virtue is the right balance between two extremes, for example, generosity is the balance between wastefulness and stinginess.
Besides the cardinal virtues of antiquity "Prudence, Justice, Fortitude, Temperance" and the "Divine Virtues – Faith, Hope, Love" mentioned by Apostle Paul in his letter to the Corinthians (1 Cor 13:13), there are many other virtues such as Prudence, Wisdom, Mindfulness, Integrity, Self-care, Excellence, Humility, Public spirit, Courage, Self-discipline, Acceptance, Courage, Gratitude, Confidence, Spirituality…
Integrity is very important to me personally and I try to live it as best as I can and surround myself with people who have integrity. My spirituality and faith in God help me a lot to rediscover and awaken these virtues that are dormant in all of us.
👉What virtues do you think are the key to a happy life?
👉Why is there so much imbalance in many areas of life these days?
👉What does 'integrity' mean to you?
👨🏻‍🦳🇦🇹Franz Wenninger
It is a gift for me that I was able to interview my 90-year-old father very spontaneously for my June blog. Dad was an elementary school headmaster in my home community for 30 years and also taught my siblings and me – he was always and is for me a person of respect with quite a few talents (music, sports, general knowledge, crafts). It makes me proud to be his daughter. About five years ago I was able to convince my parents to do their Kolbe profile – my father's score of 7-7-1-7 gave me a very helpful answer to our often controversial and intense discussions. While I am a quick starter, innovative and willing to change, my father is the maintainer and defender of his system. This explains a lot, my father is the third of seven children – his parents had a wainwright's workshop (Frankenburg/H., Upper Austria) where all sons also had to learn the wainwright's trade. His childhood was marked by hard work and a lot of sacrifice. I appreciate his truthfulness, his loyalty, his humour and the adventurer in him.
Peter & Maria Peer
👩🏻🇦🇹Maria Peer: Maria and Peter are the parents of a very good and dear friend of mine. Both grew up in rural structures in Tyrol and are now retired.
Maria loves painting, arts and crafts and hiking (pilgrimage) – I admire in Maria her loving nature, her sense of family, tolerance and justice as well as her closeness to nature.
👨🏻🇦🇹Peter Peer: Peter is a passionate and very good runner and loves mountaineering, playing music on the trumpet and living in the mountains. I appreciate his modesty and openness as well as his closeness to the earth. I am very grateful to Peter for giving me an insight into life and work on an alpine pasture.
👨🏻‍🦳🇦🇹 Franz Wenninger
👉What virtues do you think are key to a happy life?
Honesty for me is quite essential to a happy life, as is the virtue of trust in the sense of, I trust that my inner desires will be heard.
Mindfulness – paying attention to what others think and do, not rejecting everything, not overvaluing one's own opinion;
Public spirit – to see that everyone is helped.
Gratitude in all circumstances and showing gratitude when one has benefits through others.
The virtue of wisdom, which is continuously strengthened by one's own practical experiences.
Where I see and feel little wisdom today is, for example, in medicine – too many (school) doctors learn far too little from their own observation and practical experience – this used to be quite different, where doctors depended on their own experience.
👉Why is there so much imbalance in many areas of life today?
In my observation, many people today lack a seriously lived religiosity, humility before the Creator.
Many decisions are made of ego and in the moment and not in harmony with the big picture.
👉What does 'integrity' mean to you?
Integrity means to me that someone lives as he actually wants to be, according to his values.
👩🏻🇦🇹 👨🏻🇦🇹Peter & Maria Peer
👉What virtues do you think are the key to a happy life?
In our opinion, it is important to live life with confidence. We overcome difficult situations in life with hope. Another key to a happy life is to be grateful for the 'now'. It is also important to cultivate community and to accept the opinions of others.
👉Why is there so much imbalance in many areas of life these days?
In many areas of life one senses pronounced egoism, the claim to power and greed. Always these I! Me! – Society, where the sense of community and empathy are missing.
👉What does 'integrity' mean to you?
For us, integrity means not excluding anyone and living a righteous life.