Life is like riding a bicycle. To keep your balance, you must keep moving. – Albert Einstein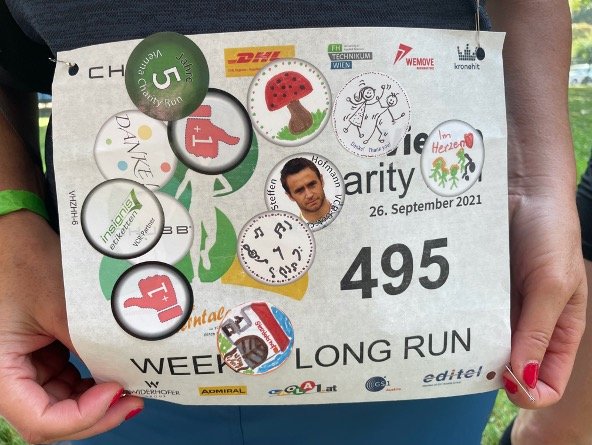 In principle, I have always been fascinated by everything that is connected with movement: from 'I move myself to what moves my fellow human beings to how can I move something in this world and who already moves a lot. I find it hard to stand still. Whether running for a charity run or discussing world-changing issues," it says in the menu item 'About' on my website.
And indeed, an inner restlessness makes itself noticed when I observe how people and humanity seem to go around in circles in certain areas and situations. Trapped in the system of everyday life, habit, comfort or in the hamster wheel of perfection and 'always functioning well', path and goal blur on the horizon of existence and a sense of stagnation and frustration begin to block movement forward.
Again and again, I tried to get myself out of this rut and finally succeeded.
I start this process of liberation again and again:
– by creating space for myself: saying no to 'more', clearing my head through physical movement, whether running, gymnastics, swimming, dancing or even singing.
-by focusing more and more on my actions, my strengths and my authenticity
-in nurturing my relationship with God and the Great Spirit from the heart and with passion.
-in which I appreciate my counterpart in gratitude and strengthened and motivate to look forward and go.
"All mankind is divided into three classes: those that are immovable, those that are movable, and those that move." -Benjamin Franklin
JU'S 3 QUESTIONS OF THE MONTH
👉How do you free yourself from the daily 'grind' to maintain balance in life?
👉Which people have already moved you and are currently moving you?
👉Were there any moments during the Covid 19 pandemic that particularly moved you?
👩🏼🇦🇹🇫🇷🇨🇭🇸🇳🇲🇦 Eva-Maria Pimmingstorfer
Eva-Maria and I attended the secondary school (HS 1) in Vöcklabruck together from 1976 -1980 – I perceived Eva-Maria as very self-confident and determined back then and today I admire her eloquence, her ability to empathize, her clear line and her humor. Eva-Maria comes from the Hausruckviertel/Upper Austria, she lives and works as an administrative assistant in Vienna. Her hobbies include hiking, traveling and cycling.
👩🏼🇦🇹🇬🇧🇺🇸🇫🇷Irmgard Böhm
Irmgard grew up on a farm in the Waldviertel, she is a retired social worker and psychotherapist and loves the sea, hiking, cycling, gardening and reading. We know each other from the Grandmother Turtle Center and I appreciate Irmgard's sensitive, fine way, her courage to always remain self-reflective and her openness to the world and love for Mother Earth.
🧔🏼‍♀️🇦🇹🇨🇿Michael Kozeluha
Michael and I ran into each other at a Weekly Long Run (https://www.wemove.at) – we ran a bit together and were quickly engaged in a very interesting conversation – we have been friends on Instagram ever since and I admire Michael for his passion, discipline and motivational Instagram running posts. Michael was employed as a master carpenter and stage manager in the workshops of the Federal Theaters (now Art for Art) at the Arsenal until his retirement. He is passionate about running and is also artistically active as DJ Okim, among others 👉https://facebook.com/DJ-Okim-213268718482/
Answer 1
The best way for me is to switch off in nature. For me, exercise is an essential part of my free time. I like to walk through forests for a few hours, but I prefer to go to the mountains. Cycling around the lakes in Austria's most beautiful region, the beautiful Salzkammergut, also relaxes me. I usually spend my days off outside in nature all day; I had a lot of time for that due to short-time work in the last months.
Music also lets me forget the daily grind. I love organ concerts and large orchestras and choirs.
Answer 2
In my very varied professional life, I have already had the opportunity to meet many interesting people. Often a private contact has developed that has lasted for years, where trust, openness and familiarity have developed. One of my former superiors was seriously ill and spent months in hospital. The reunion after the illness was not characterized by many words, but the meeting was a quiet happy reunion.
In my private life there is one person who made so much possible for me, always stood by me, always asked my opinion and supported me in all, really in all situations, even if it was not always easy.
Despite many hardships and strokes of fate in her life, she never became bitter. Hope and confidence could never be taken away from her, even if life was not always easy.
Even during the last two years during the pandemic, she also repeatedly expressed confidence and hope. Many people around me have had a hard time getting through the pandemic. Criticism of the measures, constant dissatisfaction and little confidence that it will all pass was the order of the day. Dissatisfaction about the limitations in everyday life, instead of focusing on all that was possible.
I wish that this person will continue to surprise and move me for a very long time:
My mother!
Answer 3
The contact restrictions as well as the loneliness were a big problem for many (elderly) people. Many could not or were not allowed to leave the house/the own apartment. I was very touched by the fact that many people wanted to help these people and that many people offered neighborhood support and voluntary help.
Answer 1
I don't experience a 'daily rut'. Since I retired last April, I can determine the flow of my days myself. But I haven't experienced my work life as a rut either.
Perhaps because I chose a profession that interested me and brought me into contact with many people. I rather need to break free from the gallop in order to pause and come to rest. This is best achieved in nature, in the garden, while cycling or when I retreat to my room.
Answer 2
Every person touches and moves me. Most of the time I'm probably not aware of it. First and foremost, I was certainly moved by my parents 😉 they still move me, because I am most strongly influenced by them in this life, then also my siblings (we were 8 children), an aunt, an uncle and a cousin with whom I lived for a few years, then my husband and my children and that is still the case, although the children have long since moved out. Beyond that, of course, there are many people, teachers, neighbors, friends, "people" from books and movies. To name them concretely, I would probably have to go more into myself. For sure, Jesus and Mother of God are among them!
Answer 3
Oh yes, there most definitely were. Or no, they weren't actually moments, but stormy waves that seemingly crashed over me there with all kinds of news, starting with China, but really coming close only with Italy. A bath of emotions.
It's good to remember nature, gardening, cycling, etc. and come back to it.
Answer 1
The fact that I can just say I'm going to go for a run now, or take rest breaks when necessary, is already a great luxury for me.
It is also the shared experiences that give me the feeling of having a fulfilled life.
There is a creative part in my life. As DJ Okim, or together with my wife as "Lost in Bass" with over 1000 club nights and radio broadcasts on Orange 94.0, the free radio in Vienna. We have also created and exhibited art together time and again.
I believe that many things cannot be planned in advance and that there are always new opportunities in life to actively participate or to passively enjoy.
Answer 2
In the beginning, it was certainly my parents who took me hiking very often and also taught me how to ski. As a child, I was rather lazy about exercise and couldn't understand the point of hiking. Supposedly, the prospect of getting good food and drink at the destination was finally my motivation to go further than I wanted to. In my youth it was quite different, I always wanted to be in front and first at the summit. Still, it was the parents who planned great long-distance hikes and took me with them. The love and experiences (also the rules), to the nature respectively to the mountains originate from these years. In this time, I also discovered running for me, but still without a concrete goal. After that, however, I was not sporty, the professional life and my own family with two children set the pace. It was only a little more than ten years ago that I slowly started running again.
Running together in a group was particularly motivating and instructive. In my case, it is the adidas Runners Vienna, which also invites to many races, where I was ultimately able to gain a lot of new experiences.
Answer 3
In the first Lockdown, when I drove to my brother-in-law in Burgenland, it was already dark and even on the highway were very few on the road. Arrived in the village with 2200 inhabitants, I was moved by the silence, combined with the starry sky. It was so incredibly quiet, as I have experienced until now very rarely. I can still feel this experience today.
A completely different experience, also in the first lockdown were the many people in the parks around my home in the Arsenal Vienna. During my walking activities I didn't want to get too close to anyone; that wasn't always easy and somehow also strange.
#betweenoceans2020