"Joy is prayer; joy is strength:
joy is love; joy is a net of love
by which you can catch souls.
" — Mother Teresa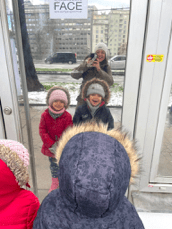 How can you feel joy when you are bombarded by an almost endless headline full of terrible news on a daily basis?
I have to admit that there are moments when I am briefly tempted to join in with the suffering of the world and complain – but who is helped by complaining?
In situations like these I remember my childhood and those wonderful moments where I forgot everything around me and I was fully focused on the moment with joy, whether alone or with other children. I was just full of joy, anticipation, curiosity and gratitude – way too early this gift often gets lost on the way to adulthood…but not forever.
It is worthwhile to look for it again and again and to rediscover it: whether in playing with children, in making music, doing sports or dancing or in enjoying beautiful moments with loved ones, in nature, in prayer or in meditation: in finding one's passion or in sharing one's joy. The German musical group Enigma sings about this finding in 'The Return to Innocence' as follows "(…) and if you want, then start to laugh – and if you must, then start to cry – be yourself, don't hide (…) " and Friedrich W. Nietzsche means:
"The best way to begin each day well is to think upon awakening whether we could not give at least one person pleasure on this day."
JU's 3 questions of the month:
👉Do you remember any particularly joyful moments of your childhood?
👉As an adult, how do you manage to experience joy and how do you show it?
👉What is your advice for people who have lost the gift of joy, of being able to be joyful?
👩🏻‍🦱🇦🇹🇫🇷🇲🇿🇪🇬🇧🇫🇱🇧🇦🇱🇨🇮🇹🇳🇦🇺 Elisabeth Woschnagg
I met Elisabeth/Sissi through a good friend in 2015 and from the beginning I was excited about Sissi's interesting life in so many different countries and cultures as well as her professional experience in tourism, where she worked as a marketing manager and consultant. I admire Sissi for her lifestyle, her cosmopolitan nature and her hobbies:
Besides running, hiking, skiing, Sissi loves to work in her garden, cooking and traveling together with her husband – soon again with their sailboat.
🧑🏼🇬🇷🇦🇺🇬🇧 Toúla Filis
Together with my ex-husband Kim White I met Toúla in summer 2010 on our favourite Greek island and very beautiful holiday spot in the north of the island of Lesvos. Since then I keep visiting Toúla every summer during my stay on the island. Toúla is the most giving and loving woman I have ever met – she is such a sunshine and fantastic and passionate cook and loves gardening. She is owner and hostess of Hotel Defkalion – if you want to get to taste best traditional Greek food/cooking and best Greek hospitality meet Toùla.
🧑🏻‍🦱🇦🇫🇮🇷🇦🇹 Arman Rahimi
From October 2015-March 2016, I offered a cultural program to young asylum seekers on weekends in Vienna with a small team – that's how I got to know and appreciate Arman. In the meantime, Arman lives and works in Salzburg/Upper Austria and is on friendly terms with my sister and me. Arman spends his free time doing weight training, playing soccer, volleyball and billiards as well as cooking and meeting friends.
I appreciate in Arman his sincere, loyal, helpful nature and his good and smart ideas.
👉 Do you remember particularly joyful moments in your childhood?
I was lucky enough to grow up on a farm in the countryside with three siblings and I remember many joyful moments: there was the connection to nature and the animals. With my sister Elke, we packed the cats in the doll's pram and took them for a walk. I was a dreaded tree climber because I managed to reach the highest tree houses and hiding places of the boys. I could sit and chat for hours with the boy next door on the swing or in the cherry tree. I loved going on the annual three-day hike (in Knittelfeld/Murtal, Austria) or enjoying the sunny days at the swimming pool with other girls.
👉 As an adult, how do you manage to experience joy and how do you show it?
Nature and exercise are still essential for my quality of life. That's why I live at an advanced age again in the countryside. Every day when I look out of the window and see how nature changes with the seasons, I am happy. Now in spring the crocuses and the snowflakes are already growing, the birds are chirping intensely, and the sun's rays are getting warmer. I think that gardening is totally meditative, and it allows me completely to forget about time. The joy of exercise can also be shared on walks, bike rides etc. together. I personally like to share my "cooking skills" and inspiring moments with friends at the dining table and a good glass of wine.
👉 What is your advice for people who have lost the gift of joy, of being able to be joyful?
Unfortunately, happiness and joy are not everyone's cup of tea and it's hard to look into people's souls. There are professionals for that today.
Friends and/or family are probably important when it comes to looking out for help, in the best case you can look for ways out of the "depression" together. Don't say "NO" or "that's not possible", but simply try (new) things, get involved with new impressions, with other people, look for inspiration in other cultures or in art and culture… It is important not to watch/listen to/read the news every day, because there are almost only negative vibes. Consciously withdrawing again and again can help: a weekend on an alpine pasture or in a museum, a sailing trip, or a yoga retreat…
👉 Do you remember any particularly joyful moments of your childhood?
As a child my fondest memories of joy were when I was surrounded by my siblings and being carefree as I had no worries in the world. The simplest things would bring me joy as the telling of a story from my grandmother or the playful moments with my friends in the cobbled streets of the village. A simple treat would put a smile on my face and my mother's warm homemade bread will fill me up with warmth. As a young girl in the 1960s it didn't take much to bring joy to me, the open arms of my mother and father were always enough to put a smile on my face.
👉 As an adult, how do you manage to experience joy and how do you show it?
I now experience joy through my good deeds and seeing my children and grandchildren happy. It is extremely important to me that my children find their way in life and every achievement they accomplish gives me immense joy. Seeing the smile on my lovely 3 granddaughters makes me feel warm and the moments I get to spend with them fills me up with joy. Although my family makes me happy, I also find joy in the little things that give me pleasure like coming up with a new cooking recipe, or seeing people enjoy my cooking and treats that I make with so much passion.
👉 What is your advice for people who have lost the gift of joy, of being able to be joyful?
Having an open mind despite any adversities is always a good starting point. Sometimes you need to step back and take a deep breath and look at things from a distance. Allow yourself the space to have a clear mind and heart. Joy comes to everybody in very simple ways, and you need to try to be open to understand when this is happening. Joy is in a warm meal, when you smell a flower – it is everywhere. You should try to be joyful, just open and accommodate until the sense of joy is sufficient to be touched.
👉 Do you remember any particularly joyful moments of your childhood?
My name is Arman Rahimi, I was born in Afghanistan in 1998.
There was always war in my country. Even when I was born. My father worked as a policeman and was often on duty in other cities and not present.
Our life was simple but thanks to my mother who kept a cow, goats, chickens, and sheep, we never had to suffer from hunger like many other children my age.
Our father loved us children very much. And whenever he came home, he always had a gift for each child. That was always a very special celebration for everyone.
But once, when he came back from a long mission, he brought me a bicycle. A black bicycle. Secretly, I had always wanted a bike. But, because bicycles were so expensive, I never expressed this wish. And then one day he came back from his morning assignment and called me out to him. It was summer and the sun was shining. My father was standing there with the new bicycle. It shone in the sun and my father laughed at my astonished, disbelieving face. I had never expected that my wish could come true.
Right after lunch, he took me out and practiced riding the bike with me. He held me by the back of the saddle and walked along with me. We practiced for quite a while and then suddenly he let go of my saddle. When I noticed this, I started to lurch with my bike. He called out to me: Don't worry Arman, you can do it and I was quite proud of my bike and my first independent attempts at riding.
Our father, when he was at home, was always strongly present and very loving. He always played with us and so I could really learn a lot from my father.
My big sister was a little sad, she would have liked to have a bike too. I let her ride the bike too. My father also practiced with her. So at least she could learn how to ride a bike.
I am still very grateful to my parents that they always tried very hard to make us happy, despite the difficult times.
👉 As an adult, how do you manage to experience joy and how do you show it?
Due to the ongoing conflicts and attacks in my country, I had to leave Afghanistan when I was 11 years old. I am a Hazara, and our ethnic group was, and still is, persecuted by the Taliban. As I am their oldest son, my family decided to send me away so that at least I would be safe.
I went to Iran and worked in a quarry for four years. I was completely on my own there. I had to take care of myself all by myself. But I had a dream: I wanted to go to Europe. This dream made me survive all that.
When I arrived in Europe, Austria, I was allowed to attend school. That made me really happy because in Iran, I was not allowed to do that, and I always dreamed about it.
I experienced the time of the asylum procedure with highs and depths. Hope was replaced by despair. Since I left my country, I have learnt to never give up. I was also protected by my Austrian mother who was and is a great support to me. She also lives by the principle of always looking at the positive side of a story. That is how I became an optimist.
I also believe that God is always by my side. That gives me strength.
In my childhood and youth, I learned that you could do anything. Even if it is sometimes tedius. Only in this way can you become happy and then share this happiness with the people who are close to you. I am always happy that this is possible and consider it a gift of life.
👉 What is your advice for people who have lost the gift of joy, of being able to be joyful?
Try to find something positive in every situation, even if it is difficult. Sometimes the road is long and there seems to be no end in sight. Trust in God and above all trust in yourself and don't be desperate. Life is full of surprises. Surely there are also negative ones. But you should not orientate yourself on that. Just be ready for the positive!