"So powerful is the light of unity that it can illuminate the whole earth." – Baha'U'Llah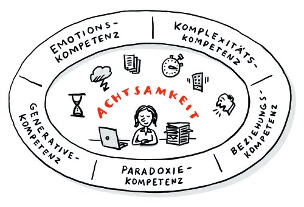 Lately, I've been thinking a lot about which competencies we will need especially in the near future – we live in such fast-moving times as never before – we are experiencing a tremendous upheaval on many levels. Digitalization and the consequences of global warming, the energy crisis and the war in Europe confront us with enormous challenges and make us aware every day how vulnerable our planet Earth and humanity are.
In this transition, this atmosphere of change and departure, where the world of artificial intelligence penetrates more and more into our lives, where internet and smartphone determine our lives more and more while in other parts of the world people still have to live in great poverty, our consciousness is also changing and in this I see a great opportunity.
The higher our consciousness, the more we will understand that we and everything are interconnected and without a relationship to each other and to Mother Earth, no challenges on this planet can be mastered.
Mindfulness is considered to be one of the basic competencies of the future, as well as contact and relationship competency, emotional competency and others.
Still 'the ego in us' seems to cloud the focus on togetherness, but I remain confident and finally quote Lailah Gifty Akita "There is beauty and power in unity. We must be united in heart and mind. one world, one people."
👉What does mindfulness mean to you?
👉Is there more 'ego' or 'community' in your environment?
👉Which competencies do you think will be very important in the future?
🧑🏾🇰🇪 Moses Odhiambo Ogutu
It's hard to believe, but I met Moses 22 years ago in Kenya. At the time, the principal of his elementary school introduced him to me as a particularly ambitious 10-year-old student. Then I decided to support him on his educational journey. Moses has now three children and I am very touched that Moses named his daughter after me – Little Judith is a beautiful girl.
Moses loves to draw and watch movies and he works in the construction business. I admire in Moses his modesty and determination.
🇩🇪🇦🇹Dennis Ludwig
Always friendly, helpful and competent – that's my neighbor Dennis from Hamburg. His wife Mia and he have been my neighbors for over a year and I'm always happy when we occasionally wave to each other from kitchen window to kitchen window.
Dennis is an export manager, loves good movies, cycling, fitness and hiking. What I appreciate about Dennis is that he is a very positive and engaging person.
👩🏻🇦🇹Kathi J.
I first met Kathi in 2011- I was teaching her and her classmates in geography/history and civic education at that time. Kathi was and is a very special young woman to me – our school encounter turned into a work relationship (like she did most of the design of my webpage) and eventually into a friendship.
Kathi loves to dance and draw and is currently learning Japanese – she works as an IT consultant besides her studies. For me Kathi is like a sunshine, an emphatic, eager to learn and determined young woman.
👉What does mindfulness mean to you?
I think "mindfulness" is being yourself. Not pretending nor being under any influence of any substance. Being alert, acting by yourself and be aware of your surroundings.
👉Is there more 'ego' or 'community' in your environment?
Where I live there are like 90% of the tribes of Kenya. The majority, which are the coastal regions tribe, are very humble, so I will say there is more community. Any person stranded is more luckily to get help. But are a few people mainly the ones who are doing very well in life; those have ego. But bottom line there is more community.
👉Which competencies do you think will be very important in the future?
Knowledge – I believe in our community things are hard because people lack knowledge. Someone may have talent on something but without knowledge he/she will have problems to push forward. We need knowledge to market what we do, to make what we do better, thus the community will be a progressive one.
👉What does mindfulness mean to you?
Mindfulness significates to me to dedicate myself to the moment. To focus with all senses on the here and now and to live.
👉Is there more 'ego' or 'community' in your environment?
I appreciate in my surrounding, friends, family, people I know, because I can say that I live in a community where everybody wants the best for each other. There are, of course rarely egoists, but a certain egoism can go along with.
👉Which competencies do you think will be very important in the future?
Intercultural competences and social to be with, openness and a certain content of respect and understanding. It will become more and more important to change the perspectives and to reflect.
👩🏻🇦🇹Kathi J.
👉What does mindfulness mean to you?
Being fully aware of the moment and living it.
I tend to take on a lot of tasks, which makes stress a normal state for me. Besides work and hobbies, I'm generally a lot on the road. Due to the long to-do list in my head, I can unfortunately rarely fully engage in the beautiful moments that arise. Yet it is precisely this mindfulness for the environment, the moments and especially the people with whom you share them that is of great importance for a fulfilling life. Mindfulness is therefore something very desirable in my opinion.
👉Is there more 'ego' or 'community' in your environment?
In any case, community predominates in my environment. Whether it's in my family, my circle of friends or at work – I'm lucky to have a great community around me, which strengthens and supports me.
👉What skills do you think will be very important in the future?
Digitization is now an integral part of our lives and will certainly be pushed further and further in the future. Through media such as cell phones, laptops, and smartwatches, you can be reached virtually everywhere, which can sometimes make it very difficult to switch off and live in the here and now. Resilience is therefore a strength that is becoming increasingly important. In times when fake news can spread even faster and further, critical thinking skills and open communication are also becoming increasingly important.
Furthermore, one of the most important competencies for harmonious cooperation is empathy.