The highest perfection of the soul is its capacity for joy.
—Luc de Clapiers Vauvenargues (French philosopher and writer) *06.08.1715, t 28.05.1747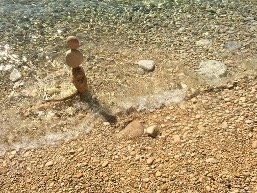 🏖I took the blog header picture in August 2018 during a week of vacation on the Greek island of Alonissos, part of the Northern Sporades archipelago.
The island is one of the filming locations of the movie Mamma Mia…sun, beach, sea, a good book and music from ABBA… 💭…-
I'm getting into vacation mood right now and I am very looking forward to relaxing and exciting travel and vacation moments that we can enjoy again soon.
👏Today is 5/18/2021 and exactly one year ago my first blog #betweenoceans2020 went online – reason to celebrate and say thank you:
to my team Kathi Joksch, Volina Serban, Julia Stramitzer, John Kulha and everyone* who made this very special interview series come alive with exciting blog contributions.
I benefit from this anniversary to go online with my JU_nique Empowerment Webpage:
▶️Empower Your Strength
▶️Empower Your Soul
▶️Empower Your Social Network
📣What a joy – finally the right time has come to introduce my business and share my experience and expertise with everyone who wants to unleash their soul, use their talents efficiently and present themselves and their business authentically on social media.
I hope you are curious and would like to learn more about me, my team and what I offer.
Here you find the link to my website 👇
▶️ ju-nique.at
👏 *Thank you to everyone who participated and built bridges of recognition, humanity, sharing experiences and finding solutions through their contributions in the spirit of the 'Between Oceans' blog series. 🌎🌍🌏
Blog

Number

Date

Title

Participant

1

Participant

2

Participant

3

1 – 18.5.20

Shutdown

2020

Shira Moriel Singer 🇮🇹🇳🇱🇮🇱🇦🇹

Lisa Paglietti 🇮🇹🇬🇧

Klaus Schneider 🇦🇹🇪🇬🇸🇦🇰🇪🇹🇭

2 – 18.6.20

Can You Hear Me?

Edwin Thekkinen🇦🇹🇬🇧🇮🇳

Helen Dolman 🇬🇧

3 – 18.7.20

Space Walk

Gottfried Menschik 🇦🇹 🇩🇪🇷🇸

Alvina Zimmermann🇦🇺🇨🇳 🇷🇺🇩🇪

Kinga Nemeth 🇭🇺🇦🇹🇩🇪

4 – 18.8.20

Masked Society

Patrizia Arthofer-Peer 🇦🇹🇧🇪🇺🇸🇬🇧

Iku Kamita 🇯🇵🇦🇹

Tara West 🇨🇦🇬🇧

5 – 18.9.20

Challenge Accepted

Volina Serban 🇷🇴🇦🇹

Conny Wernitznig 🇦🇹🇮🇪

6 -18.10.20

Information Wa_h_r

Katalin Sereghy 🇭🇺🇮🇱🇦🇹

Nikolaus Müller 🇦🇹🇺🇸🇬🇧

7 – 18.11.20

So_u_lidarity

Agathe Magdalena Schwarzinger 🇦🇹

Daniela Letizia Zenone🇮🇹🇩🇪

Julia-Maria Beischroth-Eberl 🇦🇹🇦🇺🇲🇽

8 – 18.12.20

TwoZeroTwoZero

Lore Margreiter 🇦🇹🇸🇮🇺🇸

Marilyn Prebul 🇨🇦🇺🇸🇵🇱🇨🇿

Naomi Mwanasha Chigulu 🇦🇹🇰🇪

9 – 18.01.21

Be The One

Iwan Zanchetta 🇮🇹🇨🇭

Cheryl Shotwell 🇺🇸🇩🇪

Philip Vanderspruit 🇦🇹🇩🇪🇦🇺🇳🇿🇳🇱

10 -18.02.21

BREAKTHROUGH

TG Gergely Teglasy 🇦🇹🇭🇺🇺🇸

Martina Glück🇦🇹🇩🇪

Julia Stramitzer🇦🇹🇫🇷🇮🇹

11 – 18.03.21

WOM_en_ Frau

Kathrin Gauss 🇦🇹🇫🇷

Helga Kreuzhuber🇦🇹🇺🇸

12 – 18.04.21

Lockdown World

Lori Felton 🇺🇸🇦🇹

‍Walid Awad 🇦🇹🇵🇸

Lukas Wenninger🇦🇹🇧🇪

13 – 18.05.21

Vorfreude

Judith White🇦🇹🇩🇪🇷🇸🇬🇧🇦🇺

1st ANNIVERSARY 👏

THANKS TO ALL!